GUITAR LESSONS with LUKE PARKER an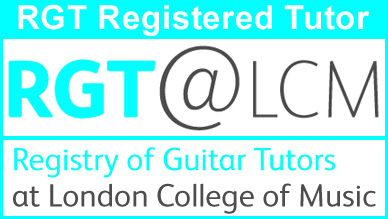 About the Guitar Lessons
(designed for 1 to 3 people per lesson)
Beginner  /  Intermediate  /  Advanced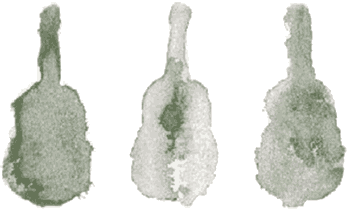 *
"It's easy to play any musical instrument:  all you have to do is touch the right key at the right time and the instrument will play itself."
J.S. Bach
Scales, Chords and a bit of Theory
The lessons get straight to the point, using practical and entertaining exercises to show how to play scales and chords. Students then use what they've learnt to improvise, jam and particularly write their own music, (the most rewarding feeling when playing guitar). At the end of each lesson we play a quick game to help each topic sink in.
For more advanced students, we look at this more in depth and work towards understanding how scales, chords and theory all fit together. And how chords and scales can be transposed to more complicated structures, giving players a better understanding of guitar; for lead playing, fills, rhythm playing and using all this to improvise around pieces of music (an essential skill required as a musician).


Practice Recordings
Students will also receive a monthly recordings to practice new chord progressions and improvising with scales over tunes. Made especially for each individual.


Technique & Rhythm
We regularly focus on right hand technique with an emphasis on strumming, finger picking and rhythm. Students have the option to learn reggae, ska, hip-hop, funk, blues, jazz, African, Latin American, folk, Brit-pop, indie, rock, pop, ballads... in fact any style of music!
We'll also be slowly but steadily building left hand technique, using simple tips and fun activities to avoid fret buzz, misplacement and to increase efficiency.
*
"When you strum a guitar you have everything, rhythm, bass, lead and melody."
Dave Gilmore, Pink Floyd
Music Projects & Home Tasks
During the course I'll be setting projects of various sizes, including on-going compositional work, learning guitar pieces of their choice and even designing their own scales and chords (which often result in finding ones already there!). There will also be weekly homework activities, the occasional school performance and a quick test after every twelve weeks to monitor how much has been learnt.


Guitar Maintenance
We'll also take a look at the anatomy of the guitar as well as its general maintenance, adjustments and tuning. And that the guitar needs to be taken care of and respected, as if it's your axe (as it is often nicknamed).


Optional Extra Modules
• vocal & singing exercises 
Students can learn how to improve their singing and speaking voice, using a series of breathing and vocal exercises following the guitar.
• song-writing
Help, or guidance, with writing music, songs and melodies (all levels); working on the structure of lyrics and creative writing content; and integrating new skills into compositions.
• performing 
Here students can get tips for building confidence towards performing; learn microphone techniques; stage methods; the setting up of gigs; how to use amplification; and also tips for developing skills as a session musician. This module can include an opportunity to try out on stage.
• recording (additional fee applies)
An option is available to record and master your own music.
• bass guitar lessons
Students also have the option to learn how to play bass guitar.
• percussion lessons
Students also have the option to learn how to cleverly use various percussion instruments to join in with, and improve, guitar playing and jam sessions.
• band workshops (additional fee applies)
Kids:
After several months of playing, students then have the option to be coached as a band with their friends. Lessons include how to keep time, to structure the music and to keep space; how to use amplification properly; how to work together as a team and most importantly - how to listen to one another. These lessons would run alongside the normal guitar lessons so as to incorporate scales, chords and techniques learnt, into the band music.
Adults:
Drop in classes are available for adults. Each week participants are given several tunes to learn, along with a new scale to play. The following week we run through each tune together, some playing chords whilst other the lead melodies. Also each person has the chance to improvise over the top of the tune, using a set scale and the new scale of the week.
*
"You may be disappointed if you fail, but you are doomed if you don't try."

Beverly Sills Chairman of the Board, Lincoln Center for the Performing Arts, Inc., and opera singer. 
Prices
Lessons can be 30 minutes, 40 minutes or 1 hour.
(Try a ten-trip ticket:  Purchase ten lessons in advance and get the eleventh lesson for free!)
 
30-minute lesson  -  Recommended for Kids (under 8)
30 minute lessons

at your home
at school

1 - 1

NZ $ 40
NZ $ 30

2 - 1

NZ $ 25
per person
NZ $ 20
per person
40-minute lesson  -  Recommended for Big Kids (under 15)
40 minute lessons

at your home
at school

1 - 1

NZ $ 50
NZ $ 40

2 - 1

NZ $ 33
per person
NZ $ 28
per person
1-hour lesson  -  Recommended for Adults (16 and over)
1 hour lessons

at your home
at school

1 - 1

NZ $ 60
NZ $ 50

2 - 1

NZ $ 40
per person
NZ $ 35
per person
Band Workshop
| | | |
| --- | --- | --- |
| 80 mins (includes set up/pack down time) | Venue / Home Lesson | at school |
| Band Workshop | NZ $ 50 | NZ $ 40 |
| (3 or more people) | per person | per person |
About Me as a Guitar Teacher
I'm a guitarist, performer, singer songwriter, music producer, and a dedicated, enthusiastic teacher of all these skills. I have two music teaching diplomas through the London College of Music, University of West London, a distinction at grade 8 on guitar, and over 12 years of experience teaching guitar to all ages and levels - including at St. Luke's Junior School in Brighton (England); Raphael House, Steiner School in Lower Hutt (New Zealand); at the Australian International School (AIS) in Ho Chi Minh City / Saigon, (Vietnam). I'm also an accomplished music workshop leader and co-founded a 'music and performance' workshop company called TopHat Workshops est. 2002.
I have been playing guitar for 27 years, and 20 years as a professional guitarist. I have recorded and produced seven albums (see here), have appeared on another five, and as a guitarist I have played live with a variety of bands around the world; mainly in the UK and New Zealand, and as a guest player in bands in Indonesia, South Korea, and West Africa.
 
*
"One good thing about music, when it hits you - you feel no pain."
Bob Marley